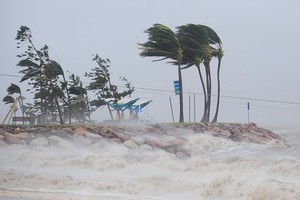 Only a freakish combination of weather conditions could see a storm with the force of Cyclone Yasi reach New Zealand shores.
New Zealand is unaffected by such a monstrous weather event because it does not have the warm oceans needed to fuel a tropical cyclone.
Our geography protects us from the worst cyclones because we are too far south of the tropics. Australia's east coast, on the other hand, is firmly in the middle of the tropics and their cyclone-producing warm currents.
New Zealand's oceans reach 22C at their warmest, and tropical cyclones only tend to spiral out of waters of 27C or more. Hurricane Katrina, which battered New Orleans in 2005, grew out of 32C water, and Cyclone Yasi may have been produced by currents as warm as 34C.
The cyclone season in the Pacific, which runs from November to April, is now at its peak. However, forecasters expect a calm week for Australia, New Zealand, and the Pacific Islands after Yasi dissipates.
The current La Nina weather cycle increases the threat of cyclones for Australia because it pushes warm currents westwards, against the country's east coast. Trade winds are also stronger during a La Nina period and push rain westwards more vigorously.
New Zealand feels only a ripple of La Nina's warmer currents.
If the tropical cyclones head south, they lose ferocity around 30 degrees south of the equator, which is hundreds of kilometres north of Cape Reinga.
This was evident in Cyclones Vania and Zelia, which last month burned out before they reached New Zealand after being measured as category three in the Pacific Islands. Cyclone Yasi similarly would have been disarmed by this colder water if it approached New Zealand.
Our biggest storms occur when weakened cyclones meet another storm system.
Niwa climate scientist Jim Renwick says, "These tropical cyclones can drift out of the tropics, retain their identity, and provide the punch for an existing storm."
He said the best-known example of this phenomenon occurred in 1968, when tropical storm Giselle collided with a polar storm from the Southern Ocean over Wellington. The storm sank the ferry Wahine in the harbour, killing 51 people.
It was the only recorded instance of winds in New Zealand reaching the levels of a category-five cyclone. Niwa measured gusts of around 275km/h.