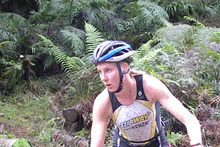 Teen sensation who excels at surf lifesaving and multisport having fun before focusing on single discipline.
Some young sportspeople are spoilt for choice. Danielle McKenzie is a perfect example.
The 17-year-old Aucklander began in multisport only last year and had immediate success winning the New Zealand secondary schools under-19 female multisport championship.
She defended her title in Rotorua in emphatic fashion recently, winning by 15 minutes and smashing her previous course record by just under 12 minutes.
McKenzie is now focused on the world age-group triathlon race in late October, where she is looking to go one better on her runner-up finish at Beijing last year.
She is also awaiting the announcement of the New Zealand surf lifesaving under-20 team, which is competing in the world championships in Adelaide in November.
While many young athletes around New Zealand are busting to compete on the world stage, McKenzie is in the enviable position of having a host of options to pursue.
"Because I have only ever done three multisport races in my life, surf lifesaving is my main priority for this year," said the Rangitoto College Year 13 student, who has already attracted sponsorship from Subway, Balance Nutrition and Sonic Surf Craft.
"But I am really keen to train for multisport later this year and next year as I really enjoy it.
"I am looking at trying to qualify for Xterra world champs to represent New Zealand. Also a goal for the next few years is to race the Coast to Coast."
McKenzie has been competing in surf lifesaving since she was 7. She enjoyed a great summer of success, winning a total of 36 medals over the various competitions in the under-19 and open age group.
Eight of these medals were at nationals including the under-19 women's board race, second in the under-19 women's ski, third in the under-19 iron woman and third in the open women's board race.
With her results, McKenzie looks a good prospect to be selected for the under-20 world surf lifesaving team for the world championships in Adelaide in November.
Jason Pocock, who has designed surf training programmes for McKenzie since she was 14, believes her potential is phenomenal.
"She is probably the most exciting board-paddling prospect New Zealand has had in a number of years, and because of her fitness her iron man is very strong," said the 36-year-old deputy principal at Whangaparaoa College.
"She has a little way to go to be able to really hit her straps in terms of ski paddling and swimming, and this will come with age and greater focus on surf."
Pocock said it was inevitable that McKenzie would have to make a decision on her preferred sport.
"She is going to have a tough choice between multisport and surf," he said.
"The pull of an Olympics in triathlon is a massive carrot for any athlete. It is the pinnacle of a sporting career and I am sure of hers."
He has no doubt that McKenzie has the ability to be a world-class competitor in surf lifesaving.
"She can be an under-20 world champion this year and in the near future can be an open world champion, depending on the decisions she makes in the next few years."
Those decisions are all in the future. For now McKenzie is just focused on competing in any as many sports on the world stage as possible.
She completes 11 training sessions a week, which is hard to fit in around her homework.
"I have to be really organised," she said. "I train every morning except for Friday, which is my sleep-in."
McKenzie trains once or twice a day, and the remainder of her time is spent on homework or catching up with friends.
"All my school mates are into sport so they all understand, and I do train with mates, too, which keeps the sessions fun and enjoyable."
It is not hard to get motivated for training when you are seeing results. McKenzie wants nothing more than to win the triathlon world champs in Auckland in November.
She believes she has a "huge advantage" being based in Auckland to familiarise herself with the bike and run course.
McKenzie will be in much better shape this year than she was in China in 2011.
She did not run for a month before the world age group race last year as she had a stress reaction in her femur.
"So being able to hold onto second place on the run leg was huge for me," she said.
"I had never had an injury before that had stopped me training for a period of time, so I was not really sure what to expect and how to go about it.
"But reflecting back on the triathlon and the weeks leading up to it, I think as well as being really physically prepared you need to be mentally prepared for a big race like that."
McKenzie has maturity that belies her age. She intends to keep enjoying all of her sports before she settles on one discipline.
"Unfortunately multisport and surf lifesaving aren't Olympic sports, although racing at an Olympics in most likely triathlon would be a huge goal to work towards in the next few years."
With her all-round ability and drive she is a good bet for the future.
By Peter Thornton