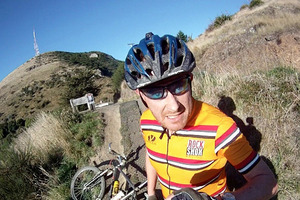 Police are "reasonably confident" they've identified the rider involved in an alleged "bike rage" incident captured on a cyclist's helmet-camera.
Jordan Brizzell, 24, told police he was attacked by another cyclist who blocked his way on a Christchurch Port Hills trail at the weekend.
Mr Brizzell was relieved police were hot on the trail of the alleged aggressor. "I'm glad that if he's caught, he'll be less likely to do something like this in future, and hopefully the trails will be safer," he told the Herald.
Video of the incident - which went viral after Mr Brizzell put it on the internet - had created huge debate on public forums. Some had blamed Mr Brizzell for the incident, which he found disappointing.
"You know what people are like on the internet. They just spurt the hate out ... without really thinking about what they're saying."
Mr Brizzell wasn't sure if he wanted the matter to go to court, but hoped the cyclist he clashed with would get some help to control his anger.