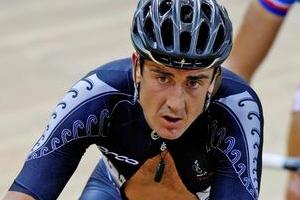 Double Olympic Games medallist Hayden Roulston will not be part of New Zealand's track cycling programme this year.
Roulston, who wanted to compete on the track at the Commonwealth Games in New Delhi this year has been told he is not eligible for selection, as he has not competed on the track for some time.
Having not run on the track since the Beijing Olympics, he had also pulled out of last week's track nationals because of commitments with his professional Columbia road racing team.
However he said on his website that he was working with BikeNZ to co-ordinate some track time in Europe as part of his buildup for the New Delhi games.
BikeNZ high performance director Mark Elliott said he spoke with the Olympics individual pursuit silver medallist and team bronze medal winner yesterday to clarify his position.
"Our criteria for selection for the Commonwealth Games required performances at (last week's) nationals and exposure at track World Cup rounds in the last couple of months," Elliott said.
"Hayden unfortunately hasn't got that so he realises he has compromised his ability to commit to that side of the programme."
Roulston would, however, be available for the road world championships and the Commonwealth Games road race.
New Zealand would have 27 spots to fill for the road and track events at the Commonwealth Games, but Elliott felt there was no chance of Roulston being picked as a road entry and then crossing over to track events in New Delhi.
"It will be difficult to do that due to the close proximity of the road world champs which will be held at Melbourne only a couple of days before the track events start at the Commonwealth Games.
"It will be very difficult for any of our riders who aren't dedicated to the track to have gone to the road worlds and then slot onto the track (at New Delhi)," Elliott said.
And with the growing talent in the track programme, particularly the quality of the sprinters, Elliott suspected "that it may be some of our pursuit team may have to cross onto the road".
"We have got a huge problem of too much quality, if you can ever have that.
"The performances from the likes of Tom Scully, Shane Archbold and the young sprint team now is a massive for us and very exciting for the sport."
He said Roulston had accepted the reasons why he was not eligible for selection for track events this year.
"It is important the athletes have a full understanding of their obligations are and where the programme is going.
"We have criteria, we have to stick to it and the athletes have to honour it and he's been very accepting of that.
"Obviously he'll be sad not to be part of that but he's got an amazing opportunity with Columbia this year and we look forward to seeing him at the front of the peloton in the Tour de France later in the year."
- NZPA