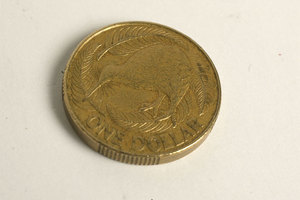 The New Zealand dollar held near a two-week high before the release of China's manufacturing PMI which will provide fresh clues to the pace of economic growth for the nation's biggest trading partner.
The kiwi edged up to 85.71 US cents from 85.63 cents at 5pm in Wellington yesterday, having reached as high as 85.85 cents overnight. The trade-weighted index slipped to 78.60 from 78.77.
China overtook Australia as the biggest buyer of New Zealand's exports last month and was already the biggest source of imports. It has the same relationship with China so the two down-under currencies tend to react to Chinese economic news. The unofficial flash HSBC Purchasing Managers' Index fell to 50.5 in April from 51.6 and today's official figures are expected to show a drop to 50.7 from 50.9.
"If the China PMI is better than expected you would imagine the kiwi would rally up," said Dan Bell, currency strategist at HiFX. "The kiwi is range-bound after a reasonably quiet night" as traders await the PMI and policy decisions from the Federal Open Market Committee and the European Central Bank this week.
The New Zealand dollar may trade in a range of 85 US cents and 86 cents today, Bell said.
The Federal Reserve's policy committee is expected to keep US interest rates near zero though it may note that recent economic figures have painted a more tepid picture of the American economy. The ECB is expected to cut its key interest rate to 0.5 per cent from 0.75 per cent. US payrolls for April round out the week, with the US expected to have added 145,000 jobs, an improvement on March's slump to 88,000.
The kiwi fell to 83.46 yen from 83.83 yen. It fell to 55.19 British pence from 55.26 pence and dropped to 65.07 euro cents from 65.38 cents. The currency traded at 82.63 Australian cents from 82.68 cents.