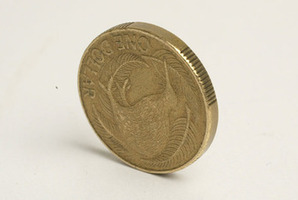 The New Zealand dollar fell after Egan-Jones Ratings cut its credit rating for the US, saying the Federal Reserve's third round of large-scale asset purchases may hurt the world's biggest economy.
The New Zealand dollar fell to 82.76 US cents at 8am from 82.85 cents at the close of trading in New York and 83.45 cents at 5pm in Wellington on Friday. The trade weighted index decreased to 73.1 from 73.23.
Egan Jones, an independent credit-research firm, cut its rating for US government debt to AA- from AA on Friday. It cited the Fed's plans to stimulate the economy, saying the central bank's plans to buy mortgage bonds will likely hurt the economy not help it.
"The quantitative easing actions by the Fed are now being broadly questioned," said Stuart Ive, currency strategist at HiFX. "There are some question marks about an open-ended bond purchase plan - it could end up hurting the economy."
Better-than-expected US retail sales out of the world's largest economy also helped push the kiwi lower. In August sales increase by the most in six months, up 0.9 per cent from a revised 0.6 percent increase in July, the Commerce Department said.
"Broadly speaking an uptrend is still in place" with the New Zealand dollar trading in a range of 83.50 US cents to 82.35 cents, Ive said.
Locally, the Bank of New Zealand - Business NZ Performance Service Index will be released today. And traders are looking ahead to current account data and gross domestic product for the second quarter, due later this week.
The New Zealand dollar was little changed on 63.09 euro cents from 63.08 cents at the close of trading in New York. The kiwi was largely unchanged on 78.39 Australian cents from 78.44 cents and was little changed on 51.02 British pence from 51.10 pence. It was relatively unchanged on 64.85 yen from 64.80 yen.