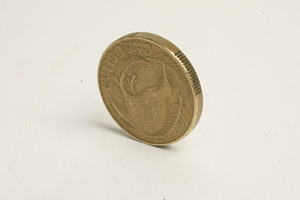 The New Zealand dollar rallied almost 1 US cent as investors digested the Group of Eight leaders pledge to support growth policies in the euro zone, ahead of European Union's Wednesday meeting.
The New Zealand dollar rose as high as 76.57 US cents overnight, from 75.89 cents yesterday at 5pm. It traded at 76.47 US cents at 8am. The trade weighted index increased to 69.12 from 68.73.
The New Zealand dollar rebounded from a 5 and-a-half month low as markets responded to news leaders from the eight largest industrial economies are pushing for Greece to stay in the euro, even as no concrete decisions have been made to support the indebted nation. Further details are expected to emerge this Wednesday when EU leaders meet in Brussels ahead of next month's summit.
"There has been nothing negative out of Europe overnight - the kiwi will probably move up towards 76.70 cents today," said Tim Kelleher, head of institutional FX sales NZ ASB Institutional. "It's come off pretty hard in the last fortnight - the market has basically got short and now we are recovering."
German chancellor Angela Merkel is coming under growing pressure to ease back on her support for austerity measures after Greece failed to elect a government on May 6. Fresh elections have been rescheduled for next month.
In the world's largest economy, the US, economic data is thin this week, with existing homes sales due out on Tuesday and new home figures out on Wednesday. Initial jobless claims and durable goods orders will be released on Thursday.
The New Zealand dollar rose to 60.59 yen from 60.07 yen as Bank of Japan policymakers prepare to meet tomorrow. A better-than-expected 4.1 per cent annualised increase in gross domestic product for the final three months of last year, may mean the central bank holds off boosting asset purchases.
The BOJ now regards asset purchases as its key monetary easing tool. It is expected to hold interest rates in its target range of zero to 0.1 per cent.
In New Zealand this week, Finance Minister Bill English will deliver his fourth Budget, where he will show the path towards an operating surplus in the 2014/15 financial year with no new spending this year.
"We will be looking at where the cuts are coming from - even if it's a $1 surplus, it's still a surplus," Kelleher said.
The Reserve Bank will release its survey of expectations for June quarter this morning, followed by the National Bank's regional trends survey scheduled for release this afternoon.
The New Zealand dollar increased to 59.63 euro cents from 59.37 cents and gained to 48.26 British pence from 47.90 pence. The kiwi was little changed on 77.13 Australian cents from 77.02 cents.