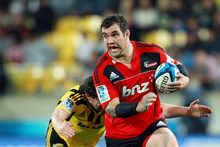 We revel in frothy attacking rugby but when it comes to the crunch, we understand the wisdom of the "no scrum, no win" saying.
So do the Hurricanes who succumbed to the powerful cohesion of the Crusaders' pack as they crouched touched, paused and then reversed in their Super 15 battle at the Cake Tin.
There was a concerted ferocity about the red and black eight which was compelling viewing. And for some time, they achieved that with All Black tighthead Owen Franks sitting in the reserves.
Wyatt Crockett, Corey Flynn and Ben Franks wore the low numbers on their Crusaders' uniform as they, with the power of their remaining forward quintet, bent, buckled and shoved their opponents in the set piece contest.
Even when Hurricanes halfback Chris Eaton dropped the ball under his hooker's feet - as all referees seem to permit in the Super 15 - the Crusaders drilled the Canes, put their pack into a marble floor slide and left them with a ragged attacking line.
It was bludgeoning authority, an exercise in athletic power as the Crusaders' trio demanded their place in the headlines.
Most of the kudos went to men like Andy Ellis, Robbie Fruean and Israel Dagg but the pianists had a glorious ride because of the piano shifters. They knew they had their foes in a turmoil.
It was not quite like shooting fish in a barrel but the Canes' front row lacked the pedigree and technical expertise to contain and counter their experienced rivals.
A change may happen down the track but for now, the Hurricanes do not have the same scrummaging impact as the other New Zealand sides.
The rematch between the Crusaders and Blues in a month threatens to be the liveliest New Zealand scrum duel if all the combatants like hooker Keven Mealamu have returned to full fitness.
Context came into focus in Durban when the Supersport television commentators took exception to Lelia Masaga's challenge on his opposing wing, Lwazi Mvovo.
Masaga chased an attacking kick and while he attempted to tackle Mvovo, their heads clashed and both were left dazed on the ground.
The broadcasters were outraged, claiming Masaga had not used his arms at all in the tackle and New Zealand referee Garrett Williamson should have at least produced his white card.
While the subsequent comments of Bobby Skinstad would be condemned in New Zealand, his expression has been used in previous commentaries by other South African observers.
"Lelia Masaga has gone head high in an absolute coconut tackle, straight into Lwazi Mvovo and tried to take his head off," Skinstad said.
Sidekick and former Springbok prop Robbie Kempson chimed in with his support.
Victory for the Chiefs gave them an unbeaten offshore run and kept them at the top of the New Zealand conference ahead of the Highlanders and Crusaders.
By Wynne Gray

Email

Wynne