Man accused of cheating after night out at SkyCity surprised to hear he broke rules, but says he needs to quit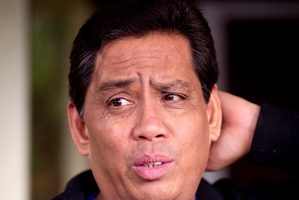 An Auckland man who says he won $125 on card tables at SkyCity is now before the courts accused of cheating.
Petronius Linsao Cortez, 52, appeared in the Auckland District Court yesterday facing nine charges of breaching the Gambling Act arising from a night at the casino on Sunday.
Charging documents allege he knowingly contravened the rules of baccarat with intent to gain a financial advantage by placing bets after the outcome was determined.
If convicted, Cortez, who lives in Glenfield, faces a maximum penalty of one year's jail or a $20,000 fine.
He entered no pleas yesterday and away from court said that he would be seeking legal advice about his position.
Cortez said he didn't realise he was doing anything wrong as nobody told him while playing.
On Sunday night he laid down $125 and got back $250, a profit of $125, he said.
"I didn't know if it was late, I'm very fast," he said of laying bets at the table.
Department of Internal Affairs games rules state any player undertaking casino table games agrees to undertake relevant rules through his or her participation.
The rules for baccarat say immediately before a round starts and all bets are on the table, the dealer will call "no more bets" and then begin dealing cards. Nobody can bet after that call.
Cortez claimed that at times on Sunday the dealer didn't make that call.
He was surprised to be told about his alleged wrongdoing later on Sunday night. He was subsequently issued with a trespass order from SkyCity for two years.
"It's okay, I stop gambling ... I need to stop."
Cortez said he had been going to SkyCity on and off since he arrived in New Zealand from the Philippines in 2000. At one point, he lost $25,000 over two to three years.
- APNZ