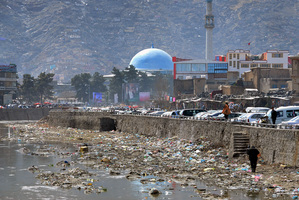 Security forces rushed to the luxury Serena hotel in central Kabul after gunshots were heard at the venue, a high-security location favoured by foreign visitors to the Afghan capital.
Witnesses and AFP reporters heard intense bursts of gunfire from the hotel, as surrounding roads were blocked off and emergency response teams arrived on the scene.
Hashmat Stanikzai, Kabul's police spokesman, confirmed that police were surrounding the hotel, but was unable to give further details of the cause of the incident.
"We can confirm gunshots at the Serena hotel. Police have surrounded the area, but we have no more confirmed details," he said.
The Serena hotel, the most prestigious accommodation in the city, was hit by a Taleban suicide attack in 2008 that left eight people dead.
The gunfire at the hotel on Thursday came on the same day that seven Taleban suicide attackers stormed a police station in the eastern city of Jalalabad killing 10 policemen.
The target of the three-hour truck bomb and gun assault was a police station near the governor's house in Jalalabad.
The Taleban have vowed a campaign of violence to disrupt the presidential election on April 5, and a spokesman for the insurgents claimed responsibility for the early-morning suicide strike in Jalalabad which also left a civilian dead.
Ten days ago Taleban leaders vowed to target the election, urging their fighters to attack polling staff, voters and security forces before the vote to choose a successor to President Hamid Karzai.
On Tuesday a suicide bomber killed 16 people at a crowded market in the northern province of Faryab. There was no claim of responsibility for that attack.
Previous Afghan elections have been badly marred by violence as the Islamist militants display their opposition to the US-backed polls.
US-led NATO combat troops are withdrawing from the country after 13 years of fighting a fierce Islamist insurgency, which erupted when the Taleban were ousted from power after the 9/11 attacks on the United States.
- AFP