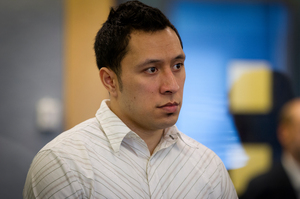 The former partner of an Auckland man accused of murdering his stepdaughter has told his trial the girl's mother would physically discipline the toddler.
Michael Joseph Martin, 25, denies killing Leilani Mary-Jane Lotonu'u at their Manurewa home in June 2012. It is alleged he hit her in the stomach hard enough to split an organ, causing a fatal infection.
The defence says the child's mother Amy Lorigan must have been responsible.
In the High Court at Auckland today, Martin's ex-partner Fiona Peo, with whom he has three children, said on one occasion Ms Lorigan called Leilani a "moron", dragged her into a room and locked the door.
Next thing, Leilani was screaming loudly.
Martin then kicked the door down and picked Leilani up, telling Ms Lorigan not to hit her.
Leilani's face was red, Ms Peo said.
"To me it looked like she got slapped or something."
When Crown prosecutor Christine Gordon, QC, asked Ms Peo how she knew what that would look like, she said she had seen Ms Lorigan hit Leilani before.
But she said that blow was to the back of the head, not the face.
Text messages read to the court between Ms Peo and Martin revealed the pair intended to get back together and Ms Peo said they had sex three days before Leilani died.
On the day he was accused of delivering the fatal blow to Leilani, Martin texted Ms Peo, saying: "I just broke up with that thing. Anyways that's one problem down and heaps more to go."
Ms Peo said "that thing" meant Ms Lorigan.
The court also heard Martin had vented his frustrations with Leilani.
Ms Lorigan's friend Janelle Trumper said during an argument with Ms Lorigan, Martin yelled out: "She's not even my kid and I have to look after her."
Her later said he loved Leilani and Ms Lorigan but it was hard looking after a child that wasn't his. The next morning Martin was making Leilani laugh by pretending to be an aeroplane, Ms Trumper said.
Ms Lorigan's stepfather Mark Chapman described her as an "okay" but immature mother. But she clearly loved Leilani.
Mr Chapman was not impressed with where she and Martin lived with Leilani and their own child, calling the house dirty and mouldy.
A high school friend of Ms Lorigan's said there were cockroaches there. The house was clean and tidy but not "scrubbed".
Martin has also pleaded not guilty to a charge of child neglect for failing to provide Leilani with medical assistance.
The trial, before Justice Graham Lang, continues.
- APNZ