No bomb found after stand-off and deal to let passengers go, which allows security staff to sneak on board.
A Ukrainian man tried to hijack a Turkey-bound flight to Sochi as the Winter Olympics were kicking off yesterday, but the pilot tricked him and landed in Istanbul instead, where he was stealthily detained after a four-hour stand-off on a plane full of passengers, an official said.
The hijacking drama came as the Winter Olympics opened in the Russian resort city, with thousands of athletes from around the world pouring into the tightly secured stadium amid warnings the games could be a terrorism target.
A Turkish F-16 fighter was scrambled as soon as the pilot on the Pegasus Airlines flight from Kharkiv, Ukraine, with 110 passengers aboard, indicated there was a hijacking attempt, according to NTV television.
It escorted the plane safely to its original destination at Sabiha Gokcen airport in Istanbul.
Officials credited the pilot and crew for convincing the 45-year-old-man, who claimed he had a bomb, that they were following his wishes.
Istanbul governor Huseyin Avni Mutlu said: "He thought it was going to Sochi but after a while he realised that [the plane] was in Istanbul."
He said the suspected hijacker was arrested after a stand-off during which a negotiator convinced him to first allow women and children to be evacuated and later agreed to let all other passengers off the plane.
"Our security units sneaked through various entrances during the evacuation of the passengers and with a quick and effective intervention the hijacker was subdued," Mutlu said. No bomb was found, he said.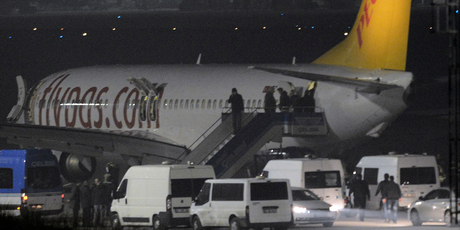 The man's motive was unclear, but Mutlu said he had "requests concerning his own country" and wanted to relay a "message concerning sporting activities in Sochi". Mutlu said there was no immediate indication that the man was a member of any terror organisation and Mutlu did not give his name.
The governor said the man was being held at Istanbul police headquarters. The man was slightly injured during the struggle when he was detained, but no weapons were used, he said. The private Dogan news agency said later that the man was taken to a hospital for his injuries. Private NTV television identified the man as Artem Hozlov.
The Interfax news agency cited the Ukrainian Security Service, the country's main security agency, as saying the passenger was in a state of severe alcohol intoxication. Mutlu said the man was not drunk, but said he may have taken substances to help him remain alert. He did not elaborate.
Habib Soluk, the Turkish Transport Ministry undersecretary, told NTV earlier that the man rose from his seat, shouted that there was bomb on board and tried to enter the locked cockpit. The pilot radioed that there was a hijack attempt and the airport was placed on high alert.
Air traffic at Sabiha Gokcen was halted throughout the incident but had returned to normal after the man's arrest.
Mehmet Tutan, one of the passengers, told reporters at Sabiha Gokcen that people on board also believed they had landed in Sochi but realised the plane was in Turkey after switching on their mobile phones.
With about 100,000 police, security agents and army troops flooding Sochi, Russia has pledged to ensure "the safest Olympics in history". But terror fears fuelled by recent suicide bombings have left athletes, spectators and officials worldwide jittery about potential threats.
- AP