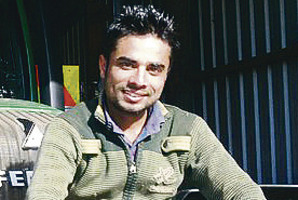 Two women who killed Amandeep Singh in Gisborne last year were part of a growing local culture of females using promises of sex to swindle migrant Indian workers for alcohol and cash, a defence lawyer says.
Adam Simperingham made the comment as his client Crystal Louise Black, 25, was sentenced for manslaughter along with her partner Krystel Therese Pokai, 24, in the High Court at Gisborne.
The pair had admitted assaulting 22-year-old Mr Singh at Kaiti Beach near the city, on December 29, 2012. They dragged his unresponsive body into bushes, where it was found a month later, too badly decomposed for the cause of death to be ascertained.
Justice Murray Gilbert sentenced Pokai and Black each to a total of eight years and eight months. Of that, two years and four months were for attempting to pervert the course of justice - a charge that arose after they initially tried to implicate Black's aunt in the offending.
The sentences are cumulative and were discounted by 20 per cent for the pair's guilty pleas.
The sentence also included concurrent terms for lesser offences relating to the manslaughter - car conversion, theft of Mr Singh's bank card and the attempted use of it to obtain money from his account.
There were no personal aggravating features requiring an uplift of sentence for either woman, Justice Gilbert said.
There was no genuine remorse shown for a further discount to apply.
Apology letters were in the same handwriting (Black's) and similarly worded, the judge noted.
Mr Singh lived in Tauranga with his wife but was in Gisborne for seasonal work.
He met Pokai on December 28 when he saw her walking home alone after a concert and offered her a lift. The next day they exchanged numerous text messages, and that afternoon Black drove Pokai to visit him at his flat but she did not stay long.
The Crown alleged Mr Singh made an unwanted sexual advance on Pokai during that visit, which became the pair's motive to harm him.
But Mr Simperingham and Pokai's counsel John Mathieson both rejected that, saying the pair simply saw Mr Singh as a source of easy gains. He had a Facebook page Deep Romeo, where he claimed to be single and looking for sex.
They lured him to their house that night in the hope of fleecing him of cash and free alcohol, in return promising Pokai was now willing to have sex with him.
If the pair intended to assault Mr Singh, they need not have left home to do it, Mr Mathieson said.
It was Singh who wanted to go to the beach - he wanted to have sex there, Mr Mathieson said.
He was of slight stature (52kg) compared to the women. If he felt vulnerable, he would not have gone.
Mr Simperingham sought a starting point for Black "much lower"than the one adopted by Justice Gilbert.
Her actions, albeit pre-emptive, could be viewed as excessive self-defence. She feared Mr Singh when he grew angry after realising he was dealing with lesbians who did not want to have sex with him, he said.
Mr Mathieson submitted a starting point of four years could meet Pokai's part in the manslaughter.
Although she said she hit Mr Singh "as hard as she could", there was no evidence as to what force she achieved.
The corpse showed no skeletal fractures and all teeth were present.
Mr Singh could actually have died from a heart attack or from blocked airways when Black - in line with her admission, held him down.
But Justice Gilbert said he believed Mr Singh had been seriously assaulted. Pokai told police she "wasted him". Black described jumping on and holding him down. He was "jabbering and breathing until he went still".
Justice Gilbert commented on the women's callous disregard for Mr Singh after the assault.
They knew they might have killed him but did not report his injuries or seek help. Instead, they drove off in his car and tried to steal from his bank account.
The pair confessed to manslaughter after their counsel's successful application to have them discharged of murder. The plea in that circumstance did not warrant a full 25 per cent discount, Justice Gilbert said.
- APNZ