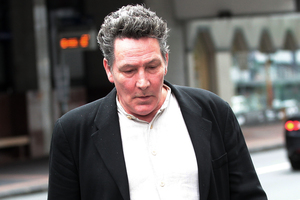 Hello Sailor frontman Graham Brazier will be personally monitored by a District Court judge for 18 months to ensure he exorcises his alcohol demons, after admitting violent assaults on both his current and former partners.
The veteran Kiwi rocker appeared in the Auckland District Court yesterday for sentencing after earlier pleading guilty to three charges.
The 60-year-old attacked his then-fiancee Toni Aitcheson at his address in Auckland in August 2009.
He assaulted her a second time in July 2010.
Last year he grabbed his current partner around the neck and "pushed her away".
The couple had both been drinking and after police investigated, the woman was also charged in relation to the incident.
She was discharged without conviction this year.
Brazier had no memory of the assault, his lawyer Adam Couchman told the court yesterday.
After he was charged, Brazier signed up for programmes relating to alcohol, anger and violence and is attending one-on-one counselling. The relationship with his current partner survived the attack and she was in court to support him.
Mr Couchman asked Judge Grant Fraser to consider a suspended or deferred sentence.
But Judge Fraser rejected the suggestion immediately.
"No. We're beyond that outcome. At the very minimum it must be community work, intensive supervision and judicial monitoring."
The judge complimented Brazier on his rehabilitation efforts, but warned he would be jailed if he carried on offending.
He sentenced Brazier to 18 months of intensive supervision, which included attending programmes organised by Probation Services to address his anger, alcohol, drug and violence issues.
"In order to determine that progress is being made ... I am directing that the matter be judicially monitored. Every three months I will get a report which will tell me about the progress you're making."
If the reports were positive, Brazier would have no further problems. If he "regressed" probation could apply for the sentence to be cancelled and replaced with a harsher one.
Brazier must also complete 100 hours' community service.