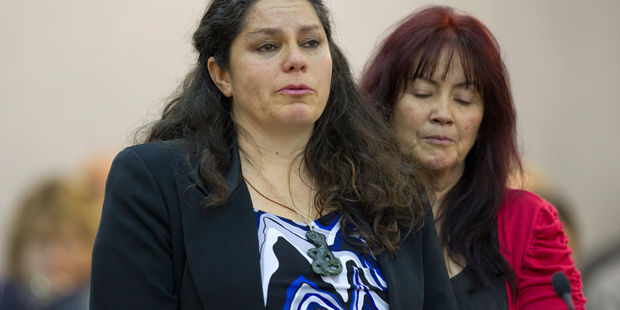 A mother whose son's killer has been sent to prison for nearly six years was overcome with grief in court today.
Tristim Lee Eastham was sentenced to five years and 11 months in prison for the stabbing death of Kapiti 20-year-old Sean Strongman-Lintern.
The 25-year-old pleaded guilty to manslaughter in August. He was handed the sentence at the High Court in Wellington by Justice Ronald Young this morning.
Mr Strongman-Lintern died last September after being stabbed in a Kapiti carpark during a fight with Eastham.
The knife used was made by Eastham and described as having a double-sided blade.
Throughout the hearing, Eastham showed little emotion - even when addressed by Mr Strongman-Lintern's mother, Nichole Craig, during her victim impact statement.
"It's a terrible feeling knowing that you'll never see someone again, especially when that someone is your son.
"When that person is your son, every fibre in your being seems to rally against that.''
Ms Craig, who began her statement with a karakia, wept several times while speaking.
Her son's death and the legal proceedings which followed had caused a lot of pain, she said.
"Over the following months, Mr Eastham's refusal to acknowledge that he had a knife and denial he had stabbed Sean was a source of anguish.''
An application for bail also demonstrated a "disregard for the gravity of the crime Mr Eastham had committed'', she told the court.
To mark what would have been Mr Strongman-Lintern's 21st birthday in January this year, Ms Craig said she and her daughter Aria visited the Whakapara urupa where her son and parents were buried.
"That's not how you want to spend that day,'' she said through tears.
"I still dream that he is alive and then I wake up and remember he is dead.''
During his summary, Justice Young urged family and friends of Mr Strongman-Lintern sitting in the public gallery to address serious alcohol and violence problems in the Kapiti community.
He referred to the 17-year-old Izak Millanta, who was bashed to death in August last year. Justice Young sentenced Izak's killer to six years in prison earlier this year.
The fatal fight between Mr Strongman-Lintern and Eastham last September occurred near a bar. Both had been socialising with friends that night, and alcohol was involved.
"Already the lives of many young men have been ruined by these events. Two have died and another two - after today - will go to prison for lengthy periods,'' Justice Young said.
"There is no one, no one else who will do anything to stop this other than the community which you belong.''
A minimum sentencing period of two years and 11 months was set for Eastham.
- APNZ