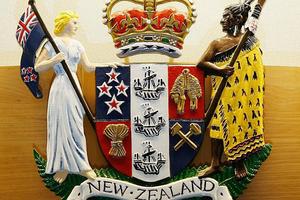 A convicted child molester who skipped the country on bail has been sentenced to seven years and four months jail after he was returned to New Zealand by Botswana Police.
Christopher Ian Crause used a fake passport to escape his sentencing last year for the sexual offending against two girls aged 13 and 14.
In the Hamilton District Court today Judge David Ruth described Crause as an "aging lothario" who manipulated his vulnerable victims with attention, alcohol and cannabis in exchange for oral sex.
Judge Ruth said the 48-year-old ensnared the girls in a premeditated and targeted way and was clearly grooming the pair for sex once they turned 16.
He said Crause, who employed one of the girls and acted as a guardian for the other, had also set his sights on another girl when he was convicted at a jury trial of 10 charges including indecent assault, unlawful sexual connection with underage girls and supplying cannabis.
Crause's lawyer said a fear of going to jail and panic prompted Crause to flee the court's jurisdiction in May last year, flying to Australia on the fake passport and then onto his native South Africa where he intended to stay.
However Judge Ruth said Crause's escape abused the trust of the court after the judge granted him bail on humanitarian grounds because of Crause's "serious heart condition".
"The Crown says this is a cynical and premeditated attempt to avoid the outcome of your trial."
Judge Ruth said Crause showed no remorse and a lack of insight into his offending and he believed the seven years and four months prison sentence was not excessive.