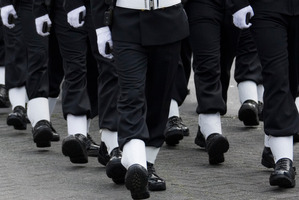 A married senior naval officer who was today dismissed from the Defence Force after a 37-year career over an affair with a subordinate has not yet decided whether to appeal, his lawyer says.
Commodore Kevin Keat, 55, was dismissed today after being found guilty of five of eight charges at a court martial at Trentham, north of Wellington.
The Defence Force said afterwards that he could appeal against the decision to the Court Martial Appeal Court within 21 days but, after today's hearing, Commodore Keat's lawyer Michael Bott said he was yet to decide whether to.
While sentencing Commodore Keat, Chief Judge Chris Hodson QC said he had been "deceitful" and showed no remorse.
Commodore Keat's other lawyer, Steven Taylor, had asked that he be allowed to remain in the navy until his contract expired next February and end his career with some dignity.
But Judge Hodson said the breach of trust had been so great it would be unfair to expect colleagues to work with him again.
The woman at the centre of the trial said the commodore exercised power and control over her employment conditions when she tried to end their affair after several years.
The commodore's defence was that the complainant's view was different from that of his own, and he insisted he ended the affair well before the woman claimed to have put a stop to it.
The woman told 3 News tonight that Commodore Keat had threatened her and her daughter.
"I think my daughter and I have spent that much time on the phone, both in tears trying to support each other. Kevin has just painted me as such a horrible picture, a horrible picture, and that to me just reflects on what sort of true man he is," she said.
"He made me lie to my superiors. He made me feel like I was a prostitute. He made me feel like there was nothing left for me."
During today's proceedings, a statement from Commodore Keat's daughter was read out in which she described him as her "hero, inspiration and idol". "These are simple facts that will never change," she said.
Commodore Keat's friend, Major (retired) Geoff Fox read a statement on behalf of his family and supporters outside court.
He said Commodore Keat continued to maintain his innocence but regretted having the affair.
"It is often said that just because someone was found not guilty, that does not mean they are innocent. Likewise, it may also be said that on occasion, that just because a court finds a person guilty, it does not mean the court has arrived at the truth."
The commodore and his family had been through a "hellish" time, and during the investigation into the allegations his life had been put under a microscope, he said.
- APNZ