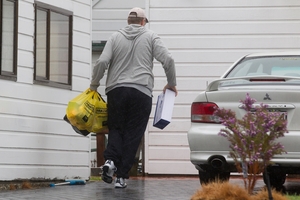 Mark Lundy seems to have settled into life on the outside, going shopping yesterday.
Lundy was released on bail to a house on Friday.
Yesterday he was seen arriving at the house, driving himself. He unloaded Pak'n Save bags containing food items including oranges and avocados. Lundy also had a Brother colour printer under his arm.
He tried to be inconspicuous, wearing a hoodie and cap and keeping his head down.
Lundy was jailed for the murders of his wife Christine and daughter Amber in 2000. However last week the Privy Council quashed his convictions. A date is yet to be set for a retrial.
Lundy did not leave his bail address over the weekend. He spent the days watching motor racing at Bathurst on TV and catching up with family. He is yet to speak publicly.