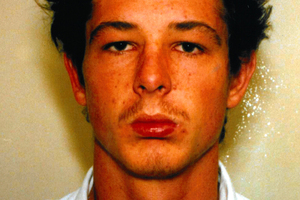 A"brutal and callous" killer jailed indefinitely for rape and murder has been released for unsupervised weekends at home ahead of his latest bid for freedom.
Hayden Taylor, 36, has spent 48-hour periods at his family's home in Parakai, 48km northwest of Auckland. Taylor was sentenced to life in prison for the murder of pregnant teenager Nicola Rankin in 1996, while he was out on bail awaiting trial for the rape and kidnapping of Amanda Watt.
Taylor admitted snatching Rankin from outside the Kumeu police station and burying her in a shallow grave he had already dug at Riverhead State Forest, west of Auckland. Rankin's skull was bashed in and her underwear was missing.
To the fury of Nicola's mother, Carol, Taylor was able to drive past the site where he murdered Rankin on his way to his family for the non-supervised weekend trips.
In prison, Taylor has completed national certificates in building and allied trades and has also been allowed out of jail for work experience.
Taylor will appear before the Parole Board in December for the fifth time.
Residents of Parakai, a sleepy town known for its hot springs, are concerned about the prospect of Taylor being released into the community. A neighbour, whose daughter had gone to school with Taylor, said she was fearful of his being released.
At his last hearing Taylor was declined parole because of "undue risk". But panel convenor Justice Gendall said: "It is not the case that Mr Taylor should never qualify for parole. He has made progress and we hope that more will be achieved by psychological treatment and counselling." However, the Parole Board members were concerned Taylor has never admitted sexual offending against Rankin.
At a parole hearing in 2009 it emerged that Taylor allegedly raped and abducted a 14-year-old girl four months before the 1996 murder. But she did not wish to press charges.
Taylor had just been released on bail for a strikingly similar attack on Amanda Watt, in which he threatened her with a knife, tied her hands behind her back and raped her. Watt, who waived anonymity to speak out about the attack, said she believes he is still a danger and should not be let out. "I will be doing what I can to keep him locked away," she said yesterday.