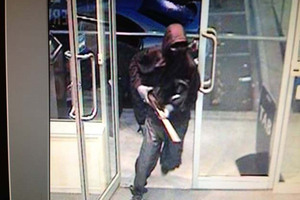 Armed men wearing goggles robbed a TAB in Lynfield last night.
Two men, wearing dark clothing, entered the betting outlet on Hillsborough Rd just before 8pm, police said.
One used a firearm to threaten staff and customers. No one was injured.
The robbers stole cash and left in a stolen vehicle.
The car was found soon afterwards in Orcades Place, about 500m away.
Police are seeking two men wearing dark hoodies and gloves. One was wearing silver running shoes and dark pants.
One man is described as being fat, the other slightly thinner.
Anyone with information about the robbery is asked to contact the Avondale police CIB.
TAB executive general manager Glenn Patrick said staff and customers who were in the store at the time were safe and well.