An out-of-control monster truck shot into a crowd of spectators at a Mexican air show, killing at least eight people and hurting 80 others, dozens of them seriously, officials said. The driver was detained on suspicion of manslaughter.
Carlos Gonzalez, spokesman for the Chihuahua state prosecutors' office, said driver Francisco Velazquez appeared to have lost control of the truck after leaping over cars it was crushing during a demonstration at the "Extreme Aeroshow" on Saturday.
Video taken by a spectator and provided to The Associated Press shows the truck making an initial pass over two cars, then making a second pass at higher speed, coming down sharply nose-first and bouncing violently before piling straight into the crowd, which stood directly in the path of the monster truck, unprotected by any wall or barrier.
Some witnesses said the driver appeared to have hit his head on the interior of the truck, which is nicknamed "Big Show," as he drove over the old cars.
At least two reporting seeing the driver's helmet come off before the massive vehicle drove into the crowd of terrified spectators, who tried to flee.
"I fell over, and when I turned around I saw the tire very close. It hit me and threw me to the other side," Jesus Manuel Ibarra, 41, said as he was treated for injuries to his arm and hip.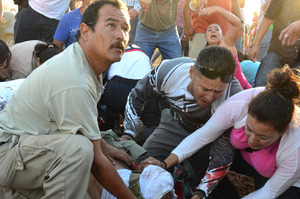 Gonzalez, who reported that Velazquez had been detained, said the accident killed at least one child and hurt 80 people, 46 of whom remained hospitalized early Sunday. He said the number of dead and injured could rise as officials receive updated information. The local health system listed the names of 67 injured people on its Facebook page, calling urgently for blood donations and help from local doctors and nurses.
The governor of Chihuahua declared three days of mourning.
Gonzalez said prosecutors were looking into the possibility of a mechanical failure that left Velazquez unable to release the gas pedal. Several witnesses said, however, that the driver appeared to have become incapacitated when he struck his head during the show, in which the truck drives at high speed over smaller cars, leaping into the air as it crushes their roofs.
Spectator Daniel Dominguez, 18, said he was happily watching the show with a group of relatives when the truck came down hard in the middle of the cars.
"The driver hit his head and his helmet flew off," Dominguez said. "The truck came directly at where we were."
His 11-year-old sister was in surgery for injuries to her legs, and his mother was treated for minor contusions.
The air show was canceled after the accident that happened during the second day of the three-day show in a park on the outskirts of Chihuahua, the capital of Chihuahua state.
- AP