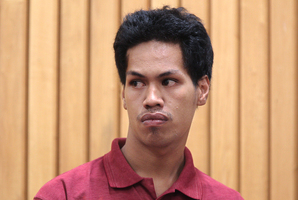 A Rotorua man who murdered Polish tourist Roman Skorek in Rotorua's Kuirau Park will spend the next 14 years in jail, at least.
Simon Meka Herewini, 22, appeared in the High Court in Rotorua today for sentencing.
He was given a sentence of life imprisonment with a minimum non-parole period of 14 years.
William Karauna Edwards, 15, and Leslie McKay Glen, 15, are also being sentenced today for intentionally causing grievous bodily harm to Mr Skorek.
Mr Skorek was beaten and stabbed on January 29 last year.
In December last year, Rawiri James Samuel, 22, was sentenced to life imprisonment, with a minimum non-parole period of 12 years, for Mr Skorek's murder.
Samuel pleaded guilty in March last year. His three co-offenders originally pleaded not guilty before later admitting the charges.
When sentencing Samuel in December, Justice Mary Peters said according to the police summary of facts Samuel and the others met Mr Skorek, 64, at the park's hot pools and drank with him.
At one point, Samuel thought Mr Skorek was making sexual advances towards one of the people he was with and assaulted him, punching him in the face and head. When Mr Skorek fell to the ground Samuel kicked him and jumped on his chest.
Samuel and the associates then left, with Samuel taking a knife with a five-inch blade and money from Mr Skorek's bag.
He went back to Mr Skorek, who was unconscious and making a snoring sound. Samuel stabbed him once in the face and once in the upper chest. Mr Skorek also received another stab wound to the chest, a six-inch open wound on his throat and suffered a fractured skull.
For more articles from this region, go to Rotorua Daily Post