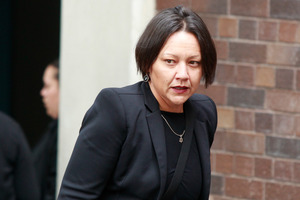 Disgraced former lawyer Davina Murray has been convicted and sentenced to 50 hours of community work for smuggling contraband to convicted murderer and rapist Liam Reid in prison.
Murray denied the charge during a trial at Auckland District Court but was found guilty on August 1.
Judge Russell Collins rejected her application for a discharge without conviction when she appeared before Auckland District Court this morning.
Judge Collins said the most serious aggravating factor was that Ms Murray had used her position as a lawyer in the offending.
Murray refused to talk to media outside court this morning and her lawyer, Peter Williams QC, said wouldn't comment on questions about whether she would appeal.
During her trial, the Crown said Murray and Reid's relationship went beyond that of lawyer-client and that prison guards seized an iPhone, cigarettes and a lighter from Reid after a visit from Murray.
She claimed the contraband was planted by guards, however, Judge Collins ruled that was "completely implausible".
Murray has since been ordered to pay more than $60,000 in costs for dragging a case with "no wider public interest" through the courts.
Her name has been removed from the Law Society Register, which means she can no longer offer legal services or describe herself as a lawyer, barrister or solicitor. She is also likely to face a Law Society investigation.
Reid is serving a 23-year sentence for raping and killing deaf woman Emma Agnew in Christchurch in 2007, and the rape, attempted murder and robbery of a 21-year-old student in Dunedin nine days later.
- APNZ