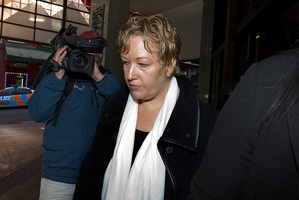 A woman who systematically defrauded her high-profile bosses has been sent to prison.
Alexandra Ruve Clare Holland, 39, admitted stealing $445,643 from Carter Bloodstock - owned by Auckland Arts Festival chairwoman and former city councillor Victoria Carter and lawyer John Carter - over two years from 2010.
Holland is a recidivist fraudster who was convicted in 2005 of stealing $67,875 from her former employer Coca-Cola Amatil.
She then got a job working as Mr Carter's secretary and stole from the business by hiding cheques among large groups of documents waiting to be signed. She would later bank them in her own accounts.
The Carters claim Holland used the stolen cash to fund a lavish lifestyle, including her wedding which they attended.
Holland was supposed to have been sentenced in July but the hearing did not go ahead as the presiding judge knew the Carters and recused himself.
She was sentenced in Auckland District Court this afternoon to three years and four months' jail by Judge Russell Collins.
He described her offending as premeditated and while he agreed she had mental health issues, they were not causative of the offending.