Islamic fighters holed up in Kenya mall say their prisoners' lives are in jeopardy as forces launch rescue bid.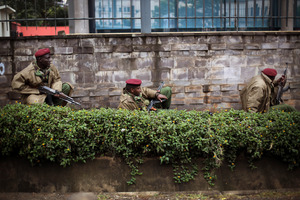 Somali al-Shabaab militants last night threatened to kill the hostages they were holding in a Nairobi shopping mall, after massacring at least 68 people.
"We authorise the mujahideen inside the building to take actions against the prisoners as much as they are pressed," al-Shabaab spokesman Ali Mohamud Rage said in a statement posted on an Islamist website.
"We are telling Christians advancing on to the mujahideen to have mercy for their prisoners who will bear the brunt of any force directed against the mujahideen," Rage said.
The al-Qaeda linked group claimed to be in contact with the fighters inside the mall.
Late last night (NZT), heavy gunfire and loud explosions were heard inside the mall as dense black smoke billowed from the complex.
The surrounding area was teeming with soldiers and armoured personnel carriers, and emergency workers and reporters were told to take cover.
Ambulances were seen accelerating towards the scene.
The Kenyan army said it had secured most of the upmarket, part Israeli-owned complex, while a security source said a final assault was under way against the Somali fighters, believed to be pinned down but using hostages as human shields.
Other sources said Israeli forces were involved in the rescue bid, along with British and US agents.
Police who had entered the building on Sunday evening said they feared the death toll "could be much, much higher ... judging from the bodies sighted inside".
The Kenya Defence Force said it was trying to bring a speedy conclusion to the drama. "Our concern is to rescue all hostages alive and that is why the operation is delicate."
It did not say how many people were being held by the attackers, who marched into the four-storey mall at noon on Saturday local time, spraying shoppers with machine gun fire and tossing grenades.
The dead include Tasmanian-born Ross Langdon and his Dutch wife, Dr Elif Yavuz, who were expecting their first child within weeks.
The director of an architectural firm with offices in Melbourne and London, Langdon spent much of his time working on projects in East Africa, including pro bono efforts for an HIV-Aids hospital and launching a "rusty roof exchange" programme to improve domestic housing.
Yavuz held a PhD in public health policy from Harvard University and was a specialist on malaria, working for the Bill and Melinda Gates Foundation in Kenya.
Yesterday, in an address to the nation, Kenyan President Uhuru Kenyatta vowed the attackers would "not get away with their despicable and beastly acts".
"We will punish the masterminds swiftly, and indeed very painfully," he vowed.
Terrified witnesses told of scenes of horror and panic as the masked gunmen stormed in. Officials estimated some 200 people had been wounded, and the Red Cross made a nationwide appeal for blood donors.
Al-Shabaab said the carnage was in retaliation for Kenya's military intervention in Somalia, where African Union troops are battling the Islamists. "If you want Kenya in peace, it will not happen as long as your boys are in our lands," a spokesman said.
Mall worker Zipporah Wanjiru, who emerged from the ordeal alive but in a state of shock, said she hid under a table with five colleagues.
"They were shooting indiscriminately, it was like a movie seeing people sprayed with bullets like that," she said, bursting into tears. "I have never witnessed this in my life."
One teenage survivor told how he played dead to avoid being killed.
"I heard screams and gunshots all over the place. I got scared ... [and] hid behind one of the cars," said 18-year-old Umar Ahmed.
Israeli interests in Kenya have come under attack before, and the Westgate mall has long been seen as a potential target.
- AFP