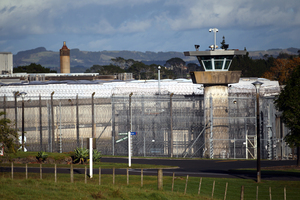 An inter-gang brawl at New Zealand's toughest prison left an inmate fighting for his life with stab wounds to his neck that required extensive surgery.
He was operated on yesterday afternoon, soon after arriving at Auckland City Hospital surrounded by prison officers.
The attack comes just months after another prisoner was stabbed and nearly killed at Auckland Maximum Security Prison at Paremoremo.
A police source said it was understood the inmate was attacked in a cell in E block, which generally houses inmates who are members or associates of gangs.
It is understood the men involved in the incident were members of the Nomads and Black Power gangs.
A second police source said none of the men were offenders who would be well known to the public.
He did not recognise the names when told who the men were by colleagues and said they were "certainly not" among the country's best known criminals from the prison's notorious D block.
These inmates include murderers William Bell, Graeme Burton and Liam Reid.
Police were called to the prison just after the attack at 10am when three men attacked another in a cell. The fight spilled on to a landing area outside the cell and a second inmate was assaulted.
"Both victims received a beating and were stabbed with home-made weapons," a police spokesperson said. additional reporting: Natalie Akoorie