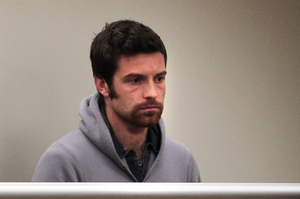 An Auckland youth group leader accused of indecently assaulting and grooming boys has been charged with 10 additional counts.
Graeme David Todd, 27, now faces 30 charges of sexual offending against young people.
The 10 latest charges include indecent assault on 11, 12, 15 and 16-year-olds, and arranging to meet children with the intention of committing an offence.
A spokesman for the governing body of the church - which the Auckland District Court has ordered not be identified - has expressed grave concern. "We are deeply shocked, deeply disappointed," he said.
The national church official told the Herald on Sunday the church has mandatory, yearly police and background checks. He said the church alerted police as soon as the allegations came to light.
All those who had been in contact with Todd were being offered counselling. He said Todd had worked in other parts of the country for the church and in wider youth circles.
The officer in charge of the investigation, Detective Senior Sergeant Richard Corbidge told APNZ the latest charges related to victims who were not represented by the earlier charges. "It's a sensitive inquiry. We're working closely with Child, Youth and Family"
Todd, who was arrested last month on seven charges, has been remanded in custody.