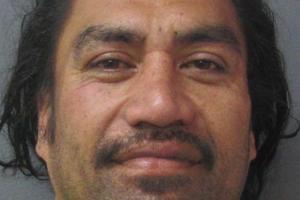 The public is being warned not to approach a man police are seeking after a police officer was pinned against a fence by a car.
Sergeant Jarod Walsh of the Hamilton Tactical Crime Unit today appealed to the public for information on 40-year-old Ngaruawahia man Ben Morunga.
Morunga was on a Waikato property police went to search on Monday following a tip-off from the public regarding an expensive caravan stolen over the weekend from a Hamilton business.
Sergeant Jarod Walsh of the Hamilton Tactical Crime Unit said when officers arrived at the Ngaruawahia property they located a similar caravan which had been stolen six weeks earlier from the same business.
"While speaking to the occupants of the address a third person, 40-year-old Ngaruawahia man Ben Morunga, has appeared and become aggressive towards the officers resulting in an altercation during which pepper-spray was used but to little effect."
As the officers attempted to stop Morunga fleeing in a white Holden Commodore car, one became pinned by the car and a fence, he said.
The officer suffered minor leg and arm injuries.
Mr Walsh warned Morunga had an "extensive criminal history" and that he should not be approached.
"What we would say to Mr Morunga and any person who may be assisting him is to consider what has occurred and contact police to turn himself in."
Morunga is described as Maori, 176 cm tall and of medium solid build.
Anyone assisting him would also face prosecution, Mr Walsh said.
The second stolen caravan had since been found. It was recovered by Huntly police from a rural location west of the Huntly Power Station following several phone calls from the public.
"Such support is vital for police investigating crime. Sometimes not everyone who would like to help the community can speak directly to police and if you find yourself in such a situation we would encourage you to leave information anonymously with Crimestoppers on 0800 555111."
Anyone with information on Morunga's location should contact Hamilton Central Police Station on 07 858 6200.
APNZ tf
- APNZ