Sightings of truck's dolphin-logo bonnet fuel 'chop shop' suspicions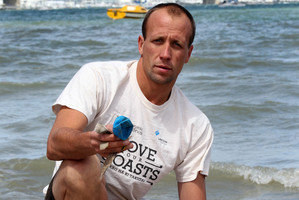 A high profile eco charity group believes parts of its stolen van have resurfaced on other vehicles.
The fate of the beloved "Black Beauty" truck is being cited as evidence of "chop shop" operations in which popular marques are stolen and dismantled for the underground parts market.
In this case, a distinctively decorated bonnet from the group's wagon has been spotted on another ute.
Police said about 18,000 vehicles were stolen last year, and more than half have never been recovered.
"There are a number of dishonest car-wrecking operations and there is a lucrative market for engines and transmissions in the Middle East," Detective Sergeant Callum McNeill, from the Waitemata tactical crime team, said.
"Bits from the shells of stolen cars can also end up on the domestic market through dodgy panel beating shops. It is organised crime."
Nissan, Toyota and Mitsubishi utes more than five years old were favourite targets, as most did not have alarms or immobilisers.
Members of Sustainable Coastlines have hitched lifts to beach clean-up events since the Nissan Safari was taken from outside their Auckland headquarters last month.
Its bonnet - which has a logo of a dolphin on it - was seen recently by friends of the group in West Auckland, fitted to another Nissan.
"We always suspected our van was broken up and sold off for parts," Sustainable Coastlines co-founder Sam Judd said.
Police had been told about sightings of the stolen bonnet.
Sustainable Coastlines has been given two free replacement vehicles, following an appeal in the Herald on Sunday two weeks ago.
One donor provided an $18,000 Toyota Land Cruiser, and nationwide company Eco Stock Supplies has loaned another Toyota ute.
"The kindness has overwhelmed us," Judd said.