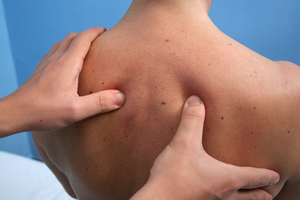 An osteopath facing more than 20 sex charges has told a jury he required all his female patients to be naked or wearing just underwear regardless of the treatment they were receiving - despite experts saying that was unnecessary.
Richard James Davis, 53, from Katikati told a jury at the High Court at Wellington today that he could treat his patients if they were clothed, but it was not as good as "skin on skin".
He has been charged with 11 counts of unlawful sexual connection and 13 counts of indecent assault in relation to the treatment of 10 women at his Gisborne practice.
Davis, who is giving evidence in his defence, told the jury of seven women and five men all treatment techniques he used were clinically necessary.
Under cross-examination by Crown lawyer Steve Manning said he asked his patients to disrobe "unless they were uncomfortable with that".
Two Crown osteopath experts, Caroline Stone and Nicolas Mariette last week told the court osteopathy could be done with clients wearing clothing.
"You can do it better skin on skin," Davis said today.
Mr Manning accused Davis of asking his female patients to be naked or near naked "because you enjoy it".
"Absolutely not true," Davis replied.
Davis also disagreed with Mr Mariette that osteopaths should never touch a woman client's breasts.
"That's a debatable point," he said.
"I would argue it's a therapeutic technique."
Davis has been accused of inappropriately touching some of his clients' breasts and genitalia, and had one patient bend naked over a treatment bed during treatment.
He has denied any inappropriate behaviour and the women must be either lying or confused.
"I think people can make mistakes and be confused about things."
He said he believed he had the women's consent for all the treatment he performed.
"I'm not as sure now as I was then that the ladies understood what I was doing, but at the time I thought I had fully informed consent."
Davis admitted touching one patient's breasts, but it was for the legitimate purpose of lymphatic drainage (breast massage) - a preventative technique for people who might be at risk of breast cancer.
He said he taught her the technique because her sister had suffered breast cancer.
Ms Stone earlier said it was "clinically absurd" and "ridiculous" for Davis to use the technique on the client based on her sister's illness.
The trial before Justice David Collins continues.
- APNZ