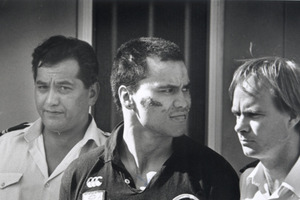 High-profile violent offender John Gillies is behind bars once again after being handed another jail sentence for attacking three men, including a prison guard.
Gillies, 42, was sentenced in Wellington District Court today to five years and three months' imprisonment for the assaults.
He had previously pleaded guilty to three charges in relation to the incidents. Two of the charges stem from Gillies' offending against James Te Maangi Hamlin and Tamatea Barlow in April last year in Waimarama.
The third charge was one of intent to injure a prison officer at Hawke's Bay Prison. In the incident, in September, Gillies punched the guard unconscious.
In his sentencing notes, Judge Stephen Harrop said Gillies had spent most of the last 20 years behind bars.
The attack on the prison guard, which came a few days after a law stating assaulting on-duty police or prison officers was an aggravating feature to a charge of assault, occurred whilst Gillies had been angry over not having access to a phone call at a requested timeslot.
"You hit the clipboard out of his hands. He decided that he should talk to you in the foyer away from other prisoners,'' Judge Harrop said.
As the guard opened the door, Gillies lunged at him and "punched him with force to the right side of his head.''
He punched him again after he lost consciousness.
In relation to the Waimarama incident, Judge Harrop said it was "a nasty, unprovoked and entirely unjustified assault on Mr Hamlin.'' Mr Barlow, who Gillies threatened with assault, had also made an effort to be friendly with his attacker at a previous meeting.
Gillies shot to notoriety in 1993 when he stabbed police officer Nigel Hendrikse with a screwdriver, leaving him permanently disabled.
He hit headlines again in 2000 as one of four inmates awarded $325,000 in compensation for being beaten.
The 42-year-old has also received $4500 of public-funded laser treatment to remove a Mongrel Mob tattoo from his left cheek.
- APNZ