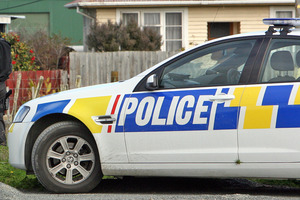 A bomb squad has cleared a Napier house at the centre of a six-hour standoff with armed police overnight, allowing distressed elderly residents to return to their homes.
An estimated 40 to 50 people were evacuated from Sanders and Logan avenues after the Armed Offenders Squad was called to a house on Sanders Ave at 10.45pm yesterday.
Police had been called by family members who raised concerns about a 30-year-old man's safety.
Do you have more information? Email us here.
The man, the house's sole occupant, confronted police with a large kitchen knife. The officers immediately retreated.
Police said the man then barricaded himself in his house and threatened to detonate a homemade bomb.
Negotiations with him continued until 4.30am, when he voluntarily walked out of his home.
Hawkes Bay police area commander Inspector Tania Kura said a bomb squad was called in from Wellington to search the house this morning.
"They've cleared the address and didn't locate anything of interest,'' she told APNZ.
Ms Kura said a 30-year-old man had been arrested but charges were yet to be laid. She said about 40 to 50 people were evacuated from their homes about midnight.
They were taken to Napier Fire Station, where they were provided support by emergency services and the Salvation Army.
Elderly people had been among those who were evacuated, Ms Kura said. "So it's quite distressing for them, but their safety is obliviously paramount.''
Residents were allowed to return to their houses from about 7am today.
Ms Kura said police did not yet know what had sparked the incident.
"There's nothing that's obvious for us, and even during the incident there was nothing that would suggest there was anything that happened the previous day, or anything to spark him off. So maybe that will come out with the fullness of time.''
Ms Kura said the man's family had held concerns about his wellbeing due to "a psychiatric condition''.
She said police were pleased with the outcome.
"We're happy that he's come out of the house safely and that nobody was harmed and we took the right precautions with the information we had.''
- APNZ