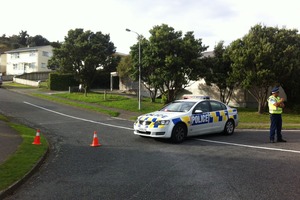 A Porirua man who was shot and Tasered by police while allegedly attacking his pregnant partner has appeared in court and been granted name suppression.
The 47-year-old was shot in his shoulder and Tasered by two officers after they forced their way into a Waitangirua home on Penguin Grove about 5.30am yesterday, and found him allegedly attacking his 39-year-old, 20 weeks' pregnant partner with a knife and hammer.
The man was today charged with wounding with intent to cause grievous bodily harm, wounding with intent to injure, threatening to kill and contravening a protection order.
Further charges are likely.
He appeared in Porirua District Court this afternoon, was granted interim name suppression and remanded in custody till May 24.
Police were called to the property yesterday by a 49-year-old woman who met them outside the home with deep cuts to her arm.
All three were hospitalised, but the man and the pregnant partner were discharged yesterday. She was interviewed by police today. The older woman underwent surgery last night and remains in hospital in a stable condition, a Wellington Hospital spokesman said.
Police hope to speak to her once she is discharged.
A scene examination was continuing at the house. A cordon had been placed at the bottom of the road yesterday afternoon.
The inquiry team has been bolstered by staff from surrounding areas with a total of 22 officers working on the investigation.
An Independent Police Conduct Authority investigation is also underway.
Detective Inspector Tusha Penny, head of the investigation, said: "Although we are only on day two of the investigation, progress is steady and we are hoping to complete all our critical interviews by early next week.''
Kapiti-Mana Area Commander Inspector Paul Basham said he was confident the two officers who intervened yesterday saved the younger woman's life.
"The two officers needed to take decisive action and one of the officers present deployed a Taser and the second officer deployed a Glock pistol, firing a single shot and wounding a 47-year-old male in the shoulder.''
- APNZ