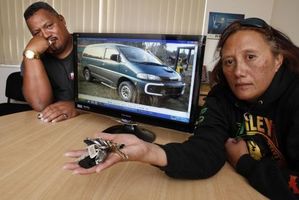 Mita Moses and Kathy Strongman wept when they saw what thieves had done to their van.
The uninsured Mitsubishi Delica the deaf couple used for family transport had been stripped of its motor, gearbox and rear door, then torched in Gumdigger Place off Rewarewa Rd in Whangarei at 11.22pm on Sunday.
The vehicle had been stolen on Thursday night.
A person who recognised the burnt-out wreck called to tell the couple yesterday morning and tears flowed when they went to the site.
Speaking through sign language interpreter Margaret Davis, Mr Moses said that when he and Kathy were walking towards the wreck they had seen it had a missing hubcap so they knew it was their vehicle.
They had been crying since they got to Gumdigger Place and were in shock, he said.
The couple had owned the van for six years, using it to transport themselves, their four children - one of whom is also deaf - and a deaf youth they had taken into their home.
Mr Moses also owns a ute, but its three-seat cab could not hold the whole family.
He said the van was the best vehicle for taking children to school or to sports or for the family to spend a day at the beach.
The couple also participate in a Ngati Hine Health Trust programme for people with disabilities and the van was used for them and others to visit marae around Northland.
The van went missing when the couple had it parked under a streetlight outside their Onerahi home late on Thursday.
Ms Strongman was unable to hear anyone making off with it and didn't notice it was gone until Mr Moses sent a text asking her to pick him up from his job at the Kensington Tavern at 1am on Friday. Police are investigating the theft and the destruction of the van.
Forty-eight vehicles were stolen in Northland in February, down from 63 in the same month last year. In the past financial year 676 vehicles were stolen across the region - down on the previous year - with 29 per cent of cases resolved by police.
For more articles from this region, go to Northern Advocate