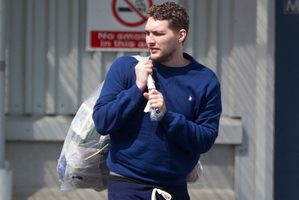 A British man involved in a drug distribution ring dubbed "a Guy Ritchie plot line without the bloody ending" has been sentenced to six and-a-half years in prison.
Daniel McGannan appeared at Auckland High Court today for sentencing after pleading guilty to one charge of supplying the Class A drug.
He had admitted arranging for 3kg cocaine with a street value of up to $1.2 million to be delivered to his old schoolmates in Auckland, actions Crown prosecutor Justin Wall described as like something from a Ritchie film plot.
"Being driven by greed and recruiting others that fell down with him," he said.
The 28-year-old showed no emotion as Justice Kit Toogood sentenced him to serve the term of imprisonment in New Zealand.
Justice Toogood said McGannan's actions had caused considerable harm to the community and described his offending as calculated.
"You took steps to contact and put at risk friends in New Zealand whom you thought would also like to make some quick money through distributing the drugs.
"You were also in contact with those who were running the operation in the United Kingdom. Your input was key to the success of the distribution once the drugs arrived in New Zealand," he said.
McGannan was arrested in London last June and extradited to New Zealand four months later.
His arrest was part of a police operation dubbed Operation Gringo, launched after the cocaine was found hidden in a suitcase carried by Mexican David Negrete Nevarez, who arrived at Auckland Airport in December 2011.
Nevarez was among five people arrested before McGannan was traced.
Using covert surveillance techniques, the Organised and Financial Crime Agency watched Nevarez deliver the cocaine to Auckland woman Samantha Margaret Gemmell, 27, who in turn passed it to Adrian Marquiss Kemp, 31, in a Mission Bay carpark.
Watched by police, Kemp transferred the package containing the drug to Wellingtonian Brendan John Clarke, who agreed to find buyers for the cocaine.
Nevarez, 43, had previously pleaded guilty to importing and possession of cocaine for supply and been sentenced to seven years in prison.
Gemmell and Kemp each pleaded guilty to one charge of possession for supply and were jailed for two years, six months and two years, 10 months respectively.
Clarke pleaded guilty to possession of cocaine for supply and will spend four years and eight months in prison.
A Wanaka man he allegedly delivered the package to has pleaded not guilty and will stand trial in Christchurch later this year.
McGannan lived in New Zealand from age 11 to 18 and it is understood he knew Gemmell and Kemp from his school days on Auckland's North Shore.
McGannan's lawyer Graeme Newell said his client felt pressure from others involved, who wanted the drug distribution to succeed.
He denied McGannan was a kingpin in the operation or that his actions were premeditated.
McGannan was facing financial hardship after his business as a wine merchant failed when he was offered an opportunity to make some money by finding buyers for the drugs, the court was told.
His monetary problems "appeared to be the motivation for his actions," said Justice Toogood.
- APNZ