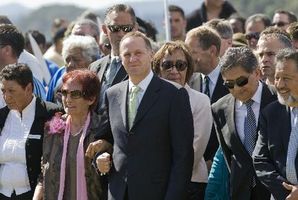 The daughter of veteran activist Titewhai Harawira, Hinewhare Harawira, has been trespassed from a Waitangi Tribunal hearing at Te Tii Marae.
Marae trustees were visibly frustrated yesterday by the repeat of pre-Waitangi Day tensions when the Harawira matriarch insisted on escorting the Prime Minister on to the marae despite their wishes that the job go to another kuia.
Kaumatua Kingi Taurua was also frustrated that police would not enforce a trespass notice trustees took out against the younger Harawira early yesterday following an incident at the hearings on Wednesday.
Their reluctance to remove Hinewhare Harawira had allowed tensions to escalate, Mr Taurua said.
Police were to meet trustees at 4.30pm yesterday to explain their legal position.
The Waitangi Tribunal is hearing the first week of evidence in stage two of the Northland Inquiry, which is examining more than 300 Ngapuhi Treaty claims.
The hearings are taking place in a large marquee on the marae grounds.
Mr Taurua said Hinewhare Harawira had persuaded the Tribunal to allow her mother to speak, even though she was not on the schedule of speakers earlier agreed by kaumatua.
Presiding judge Craig Coxhead had to call for quiet a number of times as the normally attentive crowd jeered Titewhai Harawira or shouted support; Mr Taurua refused to enter the marquee as long as Hinewhare Harawira was sitting on the taumata, in the seats reserved for kaumatua. The controversy had undermined the marae, the trustees and the Tribunal, Mr Taurua said.
"Our marae has been s*** on.
They're like seagulls - they fly in, s*** on us, and fly away."
Titewhai Harawira's lawyer Mere Mangu, however, said the trespass notice was unconstitutional and a violation of the Bill of Rights.
"Every person can attend a hearing unless the judge says otherwise, and you know where that would end up," she said.
For more articles from this region, go to Northern Advocate