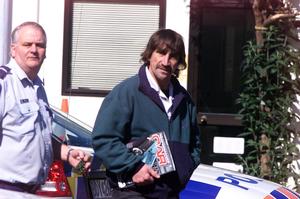 One of the country's worst drink-driving killers wants to live with his girlfriend when he is released from prison in June.
Gavin Hawthorn, 50, appeared before the Parole Board at Rimutaka Prison yesterday for a hearing to set release conditions following his 10-year sentence for manslaughter.
But the board adjourned the hearing - which APNZ has been granted permission to attend - until next month because of concerns over his relationship and the suitability of his chosen address.
Hawthorn's driving claimed four lives in two separate crashes, and he has convictions for a string of driving-related offences dating back to 1979, including 11 for drink-driving.
In 2004, he was sentenced to 10 years' prison with a minimum non-parole period of six years for the manslaughter of Lance Fryer, 34, who was killed in a high-speed crash in Wairarapa in June 2003.
The Parole Board was told yesterday that Hawthorn wants to live with his partner, who was present for the hearing, when he is released from prison at the end of his sentence on June 4.
Panel convenor Alan Ritchie noted probation services had raised concerns about the "low signal" for GPS monitoring at that address.
He said there was also "some concern" about Hawthorn's relationship.
Mr Ritchie said the concerns made it difficult to set final conditions for release, and he adjourned the hearing until April.
Hawthorn's scarred face showed little emotion, aside from a stray smile upon mention of his release, as he appeared before the three-member panel. Dressed in a grey T-shirt and pants, with his long hair tied behind his head, he sat with his arms folded.
He replied to the board with "yes" or "no" answers, apart from when he was told his hearing would be adjourned. "Righto, all good," he said.
Hawthorn has been denied parole on three occasions, the last in 2011, when the board postponed his eligibility for release until this month - three months out from the date on which he must be released from prison by law.
His convictions include 11 for drink-driving, 10 for driving while disqualified, three for dangerous driving and one for careless driving.
At the time of Mr Fryer's death, Hawthorn did not have a driving licence and was in breach of bail conditions which banned him from drinking. He had been drinking on June 3, 2003 before he persuaded Mr Fryer to go with him from Carterton to Wellington so they could visit nightclubs.
On their drive back early the next morning, a police radar clocked Hawthorn at 167km/h on a straight on the Wairarapa side of the Rimutaka Hill road. Police pursued him to Greytown, where he was driving so fast he was unable to stop when a car pulled out in front. Hawthorn lost control of his car, which slammed into a power pole, killing Mr Fryer.
The crash was less than 1km from the scene of his first fatal crash in 1989. The then 26-year-old crashed into an oncoming vehicle, killing his passengers Peter Gay and John Kaukau, and injuring the occupants of the other car.
One of the injured occupants, Bob Stevens, later died of a blood clot after surgery for his injuries. At his sentencing for manslaughter in 2004, Hawthorn's lawyer read from a letter in which the convicted drink-driver expressed his remorse.
"It doesn't seem fair to me that I should live with another fatal accident on my already tormented soul. I should never be allowed to drive again."
One driver's history
• 11 drink-drive convictions
• 2 fatal crashes
• 4 people killed
* Read the Herald's live news blog here.
- APNZ