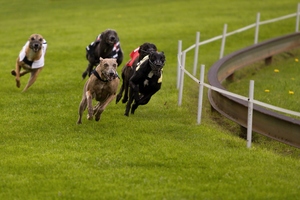 The Christchurch greyhound meeting at Addington Raceway on Friday was raided by animal control officers from three councils in the first New Zealand blitz on unregistered dogs at a track.
However, the results were meagre. Several unregistered Waimakariri dogs were found, although the council could not say how many yesterday, and one Christchurch city resident was found to have two unregistered dogs. None of the Selwyn dogs were unregistered.
Greyhound Racing NZ's manager Jim Leach said he had never heard of animal control officers going en masse to a meeting like this before. The unregistered dogs were not barred from running.
There was no requirement in the GRNZ rules for dogs to be registered with councils, he said.
"We expect owners and trainers to obey the law, but that is between them and the councils," he said.
Mr Leach said the registration rules apparently varied at different councils.
Some trainers had more than 100 dogs, and some councils allowed an arrangement like registering 20 of them.
Christchurch City Council inspections and enforcement unit manager Gary Lennan said spot checks would be made at further meetings.
The owner with two unregistered dogs was warned and given a notice requiring registration within seven days.
"Greyhound owners are no different from any other dog owner," Lennan said. "All dogs over the age of three months are required to be registered and microchipped."
Selwyn's senior animal control officer Steve Clarke said the officers from the three councils had worked with the Racing Integrity Unit and had its total support.
At some stage in future, any unregistered dogs at a meeting would be seized and prevented from running, he said. The officers had the power to do this but would rather not compromise a meeting.