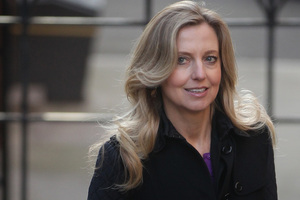 Evidence from a "supergrass" is understood to have prompted yesterday's arrests of the former Sunday Mirror editor Tina Weaver and three other executives from the Mirror Group on suspicion of phone hacking.
An insider with knowledge of the workings of a number of tabloid titles is thought to have handed the Metropolitan Police significant new information about the Sunday Mirror and the News of the World.
Scotland Yard is also thought to have obtained evidence from a recent exchange of emails between a small group of current and former Mirror Group executives. Detectives have already drawn up a preliminary list of possible victims whose voicemails may have been illegally accessed by Mirror Group journalists.
The disclosures have opened a new front in Scotland Yard's inquiries into illegal news-gathering by tabloid journalists.
Trinity Mirror shares plunged 20 per cent on the London stock exchange, wiping £60 million ($110 million) from the firm's value. Earlier in the day the company announced a 75 per cent fall in profits.
Detectives from Operation Weeting yesterday raided the homes of Weaver, who edited the Sunday Mirror for 11 years, until she was ousted last year in a surprise move, and her former deputy and former People editor Mark Thomas.
James Scott, current editor of the Sunday Mirror's sister paper the Sunday People, and his deputy Nick Buckley, both based in the paper's offices in London's Docklands, were also arrested.
They are the most senior serving journalists to be arrested in the police inquiries into press misbehaviour, which have so far led to more than 100 arrests.
All four were taken to police stations in London and questioned about a new alleged conspiracy to trawl the voicemails of newsworthy individuals for stories.
The operation cast a further shadow over Trinity Mirror, which owns both the Sunday Mirror and the People along with the Daily Mirror and scores of regional newspapers.
Until yesterday Britain's second-biggest newspaper group had largely avoided being dragged into the hacking scandal which has trashed the reputation of Rupert Murdoch's News International and cost its owners at least £250 million.
- Independent