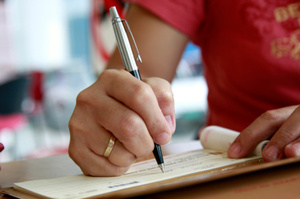 A former Internal Affairs Department worker who stole money from her social club to buy food had her sentencing put off today.
Toni Lorraine Bates, 40, of Porirua earlier pleaded guilty to 13 charges corruptly using official information, forgery and dishonesty.
The charges included using the department's social committee chequebook to buy food.
At her sentencing in Wellington District Court today, she stood in the dock hiding her face with her hand.
Her case was put off until next month because there was a dispute over reparation payments.
Bates' offending took place between August 2008 and December 2010 while she was working in Births, Deaths and Marriages as a registration officer.
Police said that between September 2010 and December 2010 Bates made out cash cheques or changed the payee to herself.
She also used a social committee cheque to buy goods at Moore Wilson's valued at more than $500.
Corrupt use of information and dishonestly using a document each carry a maximum sentence of seven years' imprisonment, and forgery carries a maximum sentence of 10 years' imprisonment.
- APNZ