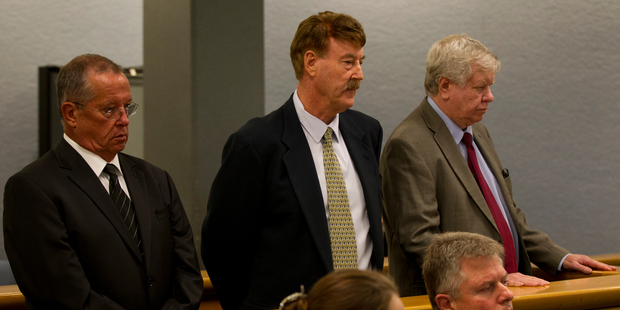 A former director of the failed firm Capital + Merchant Finance has been handed an extra year in prison and two others have been sentenced home detention and community work for misleading investors.
Former C+M chief executive Owen Tallentire and directors Robert Sutherland and Colin Ryan pleaded guilty earlier this year to two charges of making an untrue statement in a registered prospectus and one charge of distributing advertisements which included an untrue statement.
The charges, laid under the Securities Act and brought by the Financial Markets Authority, carry a maximum penalty of five years imprisonment or fines of up to $300,000 and Tallentire will also be banned from managing a company for five years.
Tallentire, in his mid-60s, is already serving a sentence of five years' imprisonment for theft by a person in a special relationship charges in a case brought by the Serious Fraud Office.
In the High Court at Auckland this morning Justice Geoffrey Venning sentenced Tallentire to an extra year in jail on the FMA charges.
Ryan, a 66-year-old Brisbane-based man with a rare medical condition and a member of the Order of Australia, was sentenced to 7 months' home detention, complete 300 hours of community work and pay $100,000 reparations.
Queensland's Sutherland, 65, was ordered to complete 6 months' home detention, 300 hours community work and pay $60,000 in reparations.
In the SFO proceedings last year, the founding directors and beneficial owners of C+M, Wayne Douglas and Neal Nicholls, were both jailed for seven and a half years, the longest sentences given to failed finance company bosses to date.
While Douglas and Nicholls also pleaded guilty in the FMA case, the pair have filed for leave to appeal in the Supreme Court in the SFO case.
If the case goes that far, it will be the first time a criminal case involving former finance company directors has reached the country's highest court.
A sentencing date for Douglas and Nicholls on the FMA charges has not been yet been set.
Capital+Merchant collapsed in 2007 owing $167 million to about 7500 investors.
No funds are expected to be recovered for investors.