Proposals come as police fear open warfare on streets from bikies.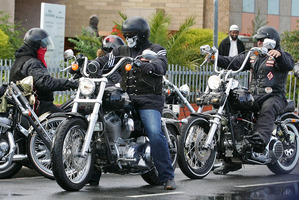 Prime Minister Julia Gillard yesterday announced plans for sweeping new national powers based on America's Federal Bureau of Investigation to combat bikie gangs and organised crime as tensions between the Hells Angels and Bandidos in Victoria threatened to flare into open warfare.
Violence between outlaw motorcycle gangs has been spreading through turf wars along the eastern seaboard.
Tied to narcotics, a thriving black market in illicit firearms, shootings, extortion, corruption and other serious crimes, gangs have taken advantage of state borders to evade crimebusters, and thwarted tough state legislation through challenges in the High Court.
"Organised criminals move from state to state," Gillard said. "It is vital that state and federal law enforcement agencies have the powers they need to break up gangs and seize their assets."
Gillard's proposals include a national FBI-style anti-gang taskforce and intelligence centre costing A$64 million ($79 million) which will target gang members across the continent, provide intelligence on gangs to Australian and international crime agencies, and investigate Australian-based gangs overseas.
Other proposals include a clampdown on "unexplained wealth" and nationwide consorting laws.
Although similar moves have previously been rejected by the states, Home Affairs Minister Jason Clare was hopeful of a change of heart when Gillard and the Premiers meet next month.
Gunfire in public places in NSW has soared over the past 15 years, robberies involving firearms rose 10 per cent in Victoria last year, and there were 14 shootings in South Australia in the first five weeks of this year.
Not all have been connected with bikies, but their involvement and a general increase in trafficking in illicit weapons has alarmed police.
The push for national laws against bikie gangs has been given further urgency by the threatening war between the Hells Angels and Bandidos in Victoria, which erupted into a wild gunfight outside a gang clubhouse last Friday.
Assistant Police Commissioner Stephen Fontana said the threat of open warfare erupting on Melbourne streets was real. Emails have been sent to police officers warning them to use extreme caution when approaching gang members.
"We have concerns about a feud that is escalating and we're warning our members to take care," Fontana said.
"Murder, torture, a whole range of things could happen with these people."

Battling the bikies
* Gang violence and shootings in public places have soared.
* Police fear tensions between Hells Angels and Bandidos in Melbourne could erupt into open warfare.
* Prime Minister Julia Gillard wants new national laws to crack down on bikies and crime syndicates.
* A new FBI-style taskforce, tough new consorting laws and a clampdown on "unexplained wealth" are planned.