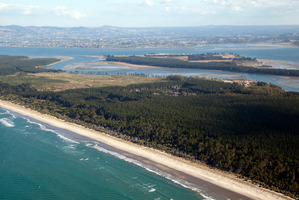 Fire destroyed more than 3ha of land and threatened homes in two separate Bay of Plenty blazes - one of which is believed to have been deliberately lit.
A small rubbish fire on Matakana Island quickly spread out of control, engulfing about 1.5ha of land. The flames could be seen from the mainland.
A fire crew on the island responded to the blaze on Saturday about 8pm and a fire truck from the Omokoroa volunteer station, a water tanker from Greerton and a rural fire truck were taken to the island by barge. The barge also took firefighters.
Omokoroa deputy fire chief Simon Priest said the blaze appeared to have started on farmland but the dry conditions saw it spread rapidly to neighbouring scrub.
Before it was contained, the fire threatened a small pine plantation and got within 20 metres of about four houses.
"We could see the glow on our way over on the ferry and when we got there the Matakana Island guys had contained it. If they hadn't, it could have got very messy," Mr Priest said.
Western Bay Moana rural fire authority principal fire officer Barry Low said it took more than two dozen firefighters about four hours to extinguish the blaze and dampen down hot spots.
"At one stage we could see the flames from the mainland. It was razing along quite nicely," he said.
"The Matakana Island crew did a great job at keeping it at bay until the cavalry arrived."
Firefighters were also called to a bush fire on Te Tuhi Track Rd in rural Whakamarama.
The fire, believed to have been deliberately lit, spread over 2ha of gorse and bushland, Mr Low said.
Three fire trucks, two water tankers and the command unit from Greerton were called to the fire about 6pm on Friday.
The same piece of land caught fire in November, costing the Fire Service about $20,000 to extinguish. A helicopter carrying a monsoon bucket was used.
Police are investigating the cause of Friday's fire.
Mr Low said ignoring the total fire ban in place in the Western Bay of Plenty was "ignorance or sheer stupidity".
"My message is simple - don't light fires. And if you do see fire, report it to the authorities immediately so it can be put out."
For more articles from this region, go to Bay of Plenty Times