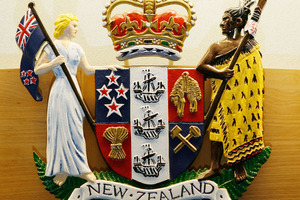 A prisoner with a lengthy violent history whose freedom from prison lasted only a matter of hours has had his bid for bail thrown out.
George Whichman had to be released from prison by the Parole Board on January 23 because he had served his full sentence for violent offences, including an assault on a prison guard.
The 23 year-old - who has links to the Killer Beez gang - was fitted with a GPS bracelet so authorities could monitor him on release.
But the Crown says that only hours after being released, Whichman breached his conditions when he left his Auckland address, associated with gang members, and drank alcohol.
It is understood he was Tasered by police during his arrest.
Whichman, who is now back behind bars, appeared in Auckland District Court today via audio-visual link.
Judge Russell Callander - who also sits on the Parole Board - said he was familiar with Whichman's case.
"We didn't think he would last long and in fact, he has lasted less than a day."
Whichman's lawyer Peter Eastwood asked that his client be bailed to his family member's home on a 24-hour curfew.
But Crown prosecutor Anna Longdill said Whichman's pleas for bail had already been turned down four times.
Mr Eastwood said his understanding was that a previous judge had indicated there may be a "window" for Whichman to get bail.
Judge Callander replied: "There will be no window for Mr Whichman."
At that point Whichman called out to the judge and asked if he would be getting bail.
Judge Callander responded: "No way".
Whichman said he did not deserve to be in prison. "I believe I should get a second chance from, Your Honour," he said.
Judge Callander answered: "You're not getting a second chance from me ... You are your own worst enemy."
Ms Longdill said the Crown would be seeking a prison sentence of more than a year if Whichman was convicted of breaching parole.
In its decision, released last month, the Parole Board described Whichman as "an angry young man".
It also detailed some of Whichman's recent behaviour in prison which included having a broom handle with a nail stuck in one end, hidden between his mattresses.
Whichman told prison authorities the broom had broken while he was cleaning his cell and he had kept it for carving.
There were also threats made against a prison officer "which were patently crude". Whichman said he had used words to the effect of "what goes around, comes around".
He also lit a fire outside his cell in December last year. Whichman told the Parole Board that he had been drinking a bottle of bourbon with his cell mates.
During an earlier board hearing, Whichman hit a prison officer who was smiling as a psychologist was trying to address emotional issues.
Whichman told the Parole Board that he was not happy about the GPS monitoring and said "he was not going to be able to carry out any sort of private life without snooping by the department."
The Parole Board ordered Whichman adhere to a number of conditions to "keep the community safe".
- APNZ