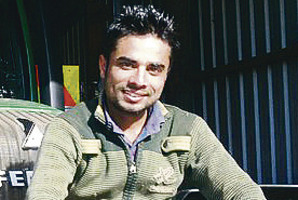 Two women have appeared in Gisborne District Court charged jointly with assaulting Indian national Amandeep Singh - the subject of a homicide inquiry - and with attempting to pervert the course of justice by removing forensic evidence from a car.

The women were granted interim name suppression and remanded in custody by consent until March 13.
They first appeared in court on February 15 charged with unlawfully taking a vehicle.
A court document charging the pair named the vehicle as being a Mazda with the same registration number as Mr Singh's car, which was found abandoned in Dalton St on December 30.
The same car registration number was included in the fresh charge of attempting to pervert the course of justice.
On their first appearance they were bailed without plea to a Gisborne property. Their names and submissions made on their behalf were suppressed.
Police launched a homicide inquiry after Mr Singh's body was found in scrub and small trees near the old road to the end of Kaiti Beach on the evening of January 24.
He disappeared after leaving his home in Gladstone Rd on December 29.
A scene examination, involving ESR scientists, was completed two days later.
Police publicly identified Mr Singh's Mazda car, registration plate WG5108, during early inquiries into his disappearance, and appealed for information from the public about the vehicle's movements.
Police confirmed the identity of the body at Kaiti Beach on February 5, after a lengthy post-mortem process that involved forensic examination.
Mr Singh's body was released to his family and was taken to South Auckland for a funeral service prior to cremation.
His ashes were returned to India on February 12 by his cousin Atma Sidhu.
They were scattered into a river in the Punjab in northern India on February 16, following a three-day funeral service at his home village.
The Singh family have called for a speedy end to the homicide inquiry and for someone to be arrested and charged.