Man being questioned after allegedly threatening to shoot woman and officers called to domestic dispute.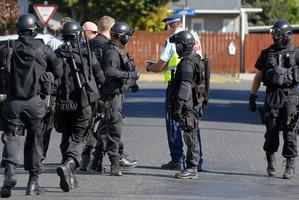 A Hamilton man was last night being questioned after a domestic row sparked an armed police callout.
Police forensic specialists yesterday examined a Glenview home which was surrounded by armed offenders squad members after a man allegedly threatened to shoot police officers who heard shouting and tried to intervene.
Acting Senior Sergeant Andy BuBear said the incident began shortly after 9am when police responded to a domestic dispute at a Tomin Rd address.
Three people were at the two-storey unit including a 10-year-old girl who managed to leave the house before police arrived.
"When officers arrived outside the address they became concerned about shouting inside the house and forced entry into the home," said Mr BuBear.
"Once inside they were confronted by a male who threatened to shoot both them and the woman so they retreated to await the arrival of reinforcements."
Neighbours reported hearing yelling, screaming, furniture being thrown and a window breaking.
One neighbour said he and his wife were frightened by the yelling so they went to a nearby community centre when police appeared at their door.
"They're usually pretty good, they have been living there for a while and things seemed to be okay," said the neighbour, Michael. "But it was scary, he's a big fella too."
The couple in the dispute are believed to be in their 40s and have lived on the top floor of the unit for several years.
Mr BuBear said that because of the threat of a firearm, responding units included armed staff who established a cordon around the house and surrounding streets.
"There were also unconfirmed reports of a shot being fired and as such members of the Waikato armed offenders squad were called in to assist.
"Prior to their arrival the woman made her way out of the house and the offender gave himself up following voice appeals by AOS officers.
"He was arrested without incident about 10.15am and all three people from the house are being interviewed."
He said victim support and other assistance was being provided.
Several streets were cordoned off to vehicles and residents were asked to stay inside. Police said that by yesterday afternoon no firearm had been found and reports of a shot may have been from a window breaking.