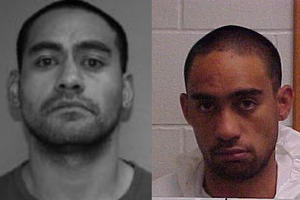 Another arrest warrant has been issued for one of the men believed to be linked to a spate of armed robberies in central Auckland, after he failed to appear in court on Monday.
Police are hunting John Koteka, 34, and Alex Tereora, 31, after three robberies within an hour at the Auckland Domain and Mt Eden on February 15.
They allege Koteka was involved in at least one of the robberies and have information to indicate he will be with Tereora.
Koteka was due to appear in the Auckland District Court on Monday for a jury trial callover. He failed to appear and a warrant was issued for his arrest.
An earlier warrant for his and Tereora's arrest was requested by police and issued last Thursday.
And a further warrant was issued for Tereora's arrest after he failed to appear in the High Court at Auckland on February 18.
Yesterday Detective Inspector Scott Beard told the Herald the hunt for the pair continued. Despite a high-profile appeal for information, there has been no sign of the men.
At about 4pm on February 15 a man brandished a gun as he robbed a person leading a tour group in the Domain. He then drove to the base of Mt Eden where he accosted a second person, then confronted Asian visitors at the summit, stealing a handbag and firing five shots from a .22 calibre weapon when two of the group challenged him.
Police have reason to believe Koteka was involved in the second robbery.
"Both [Koteka and Tereora] are considered to be armed and dangerous," Mr Beard said. "We're very keen to locate these men in order to prevent repeat offences."
Can you help?
If you know where John Koteka and Alex Tereora are do not approach them - call 111 immediately. Alternatively, contact Crimestoppers anonymously 0800 555 111.