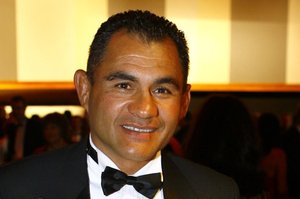 A former supermarket worker who accused rugby star Eric Rush of assault now faces charges of indecent assault and assault.
In November, the Herald on Sunday revealed 21-year-old Andrew Hart had laid a complaint against the former All Black, his boss at Browns Bay New World supermarket.
Last month, police confirmed Rush would not face charges.
And last week, Hart appeared in the North Shore District Court. It is alleged the indecent assault happened between September 15 and October 15 last year and the assault also in October.
Hart said in mid-November he planned to take an employment personal grievance against his former boss, claiming Rush had shoved him so hard he was left with bruises to his chest.
The incident that triggered that complaint occurred at the supermarket during a heated discussion between the two men about Hart's conduct.
But Rush rejected that: "I did point at him and I poked him in the chest," he said. "That's about as physical as it got."
New World parent company Foodstuffs said then that Hart was serving out his notice after resigning.
Rush declined to comment this week and Foodstuffs said it could not discuss former employees or police matters.
Hart, who did not return calls from the Herald on Sunday, will reappear in court on March 1.