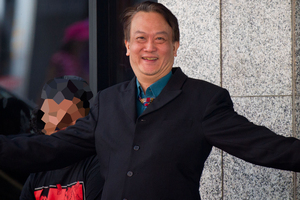 A lawyer threatened a colleague with his dogs and the "sorry end of my stick", a Tribunal has heard.
The alleged threatening language was part of a complaint before the Lawyers and Conveyances Disciplinary Tribunal hearing at the Auckland District Court today.
The Law Society says Boon Hong made physical threats against fellow Auckland lawyer Frank Deliu - thereby bringing the legal profession into disrepute.
The Tribunal heard how Mr Hong had been representing clients when they bought a home with water-tight issues.
He received a letter from Frank Deliu who was representing his former clients in 2010, informing him that he was being sued.
Mr Hong wrote back and said the legal action should be stopped.
He said if Mr Deliu didn't agree he would file a complaint with the Law Society, seek full costs and file a defamation action "... you ought to be aware such frivolous action against me will cause a loss of my good reputation and name."
Law Society lawyer Paul Collins told the Tribunal Mr Hong used threats to try to stop the legal action, and he should not be allowed to continue to be a lawyer.
"It was attempted bullying with threats and intimidation."
On another occasion, Mr Hong suggested to Mr Deliu that they both put up $30,000 to be awarded to the winner of the legal action.
That was described by Mr Collins as a "demeaning" wager.
In a later letter to the Law Society, Mr Hong addressed Mr Deliu's concerns that the former owned two rottweillers.
"One is a Border Collie and the other is a Boxer (my loyal gals)," he wrote.
"Yes, Mr Deliu better be concerned about his safety should he attempt to approach my office or me (having been warned previously not to do so) ... But it should not be my two gals that he should beware of, it should be the sorry end of my stick!".
Mr Collins said the threat of setting his dogs on another lawyer and the implication of the stick showed Mr Hong could not "rise above the heat of conflict".
"The requirements of the profession require the lawyer and a lawyer acting for himself to rise above the level of personal slanging and immaturity."
Mr Hong said he was looking after the interests of his former clients as he was required to do, and he was trying to help junior lawyers on the other side.
He asked the tribunal to remember that English was his third language and said they should consider his intent, not the words that he used.
Asked about the threats of physical violence, Mr Hong said he was concerned about the "mental status" of the lawyers on the other side.
"I would defend myself if I had to. I know a bit of Kung Fu."
The Tribunal have reserved their decision.
- APNZ