Exclusive: Unprovoked assault has left prison guard unable to work despite two years of corrective surgery.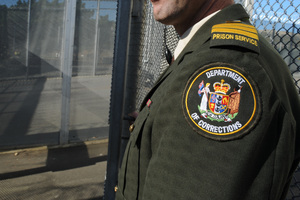 A prison guard whose jaw was broken in two places by a violent inmate has had corrective surgery for almost two years and been unable to work as a result of the brutal attack.
Paka Junior Leota, 30, was convicted of wounding the guard with intent to injure in the Auckland District Court this month following a jury trial. He denied the allegation, but after deliberating for three hours jurors returned a unanimous guilty verdict.
Leota will be sentenced in March, and Judge Roy Wade indicated in court that he was likely to be handed down the maximum sentence of seven years - or close to it.
The guard was one of 30 who have been seriously assaulted by prisoners since mid-2010. According to Department of Corrections figures, published in the Herald, there were 18 serious assaults on prison guards in 2011/12 compared with 11 in 2010/11. Of those attacked, 88 per cent were punched in the head or face area.
Leota attacked the guard on April 19, 2011. Leota was in the receiving office at Mt Eden Prison, where he was being processed in preparation for a trip to the Auckland District Court for a hearing on other matters.
As the guard, who the Herald has chosen not to name to protect his safety when he returns to work, was strip-searching Leota the prisoner became "abusive and obstructive".
The guard continued the search and then handed Leota a property bin containing his court clothes.
"When he took the bin back from [Leota] he turned away to hand it to another Corrections officer. When he turned away [Leota] punched him on the left side of his face," the police caption summary said.
"As a result of the assault [the guard] had his jaw broken in two places."
The punch was so hard that the guard blacked out and started bleeding from his mouth.
In his closing address, Crown prosecutor Michael Walker said the guard was "simply performing his job like any other day" when he was assaulted.
"This bewildering assault was deliberate, calculated and delivered with enough force to break his jaw. His back was turned and he was defenceless," he told the jury.
He said there it was clear "beyond any doubt let alone reasonable doubt" that Leota was angry and assaulted the guard with the "crystal clear intention" of hurting him.
"You can see that the accused is a strong male ... It was not accidental that the accused did this."
The guard, a married man with a young family, had been working at Mt Eden prison for only nine months when the attack happened. Mr Walker said since starting there, he had been "interactive" with Leota and tried to maintain a rapport with him - as he did with other prisoners in a bid to improve the safety of his working environment.
"He takes his job seriously," Mr Walker told the court.
"This was a quick attack that was not anticipated by any of the men that were working in the strip-search section of the receiving office that morning ... "
The guard did not want to speak about his ordeal, but it is understood he has not returned to work since the attack. He has had a number of surgeries on his broken jaw and hopes to get back to work as soon as he is able.